25 10 2013
10 Minute Mumbai Tour For Business Travelers
Mumbai, the sophisticated and cosmopolitan city comprising of 7 islands in the Arabian Sea and is the crowded city in India. India's commercial center homes various financial institutions and a million-dollar entertainment industry, Bollywood. The city, apart from being a popular tourist destination, is also popular amidst business travelers from all round the globe. The attacks by terrorist in 2008 shook the city, but the city responded with grace and resilience.
Airport Tips
Chhatrapati Shivaji International Airport is the busiest airport in India and handles about more than 29 million passengers each year. The airport gets its name from the 17th-century Maratha emperor. The airport features two intersecting runways, and on either side of the airfield, terminal complexes are situated. This international airport is located in Sahar, about two and a half miles north of Santacruz, the domestic airport. Cars are the only option to commute between these two airports. About 30 minutes are required for the transfer between the two. From the airport, consider an hour's journey to reach south Mumbai, but if there is busy traffic; it might take about 2 hours. A fare of about INR 800 would be charged by the Local taxis for the trip.
Corporate Landscape
In India, Mumbai is considered as the richest, biggest and fastest city. With the population of around 20 million, the city encompasses some of the wealthiest people and companies in India that contributed to around one third of the total taxes paid. Mumbai is also the commercial & the financial hub of India as it houses RBI (Reserve Bank of India) and the Bombay Stock Exchange (Asia's Oldest Exchange) and the Reserve Bank of India are both located here in the country's commercial and financial hub. Mumbai also features the headquarters of various Indian organizations such as the Tata Group, Godrej Group, Reliance, the Life Insurance Corporation of India, and the State Bank of India. Apart from this, a large number of Fortune 500 companies along with 90% of foreign banks, such as Citibank, Standard Chartered, and HSBC, run their operations in India from here.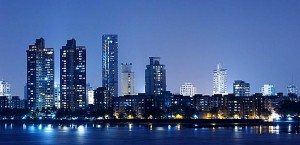 Business District
Mumbai, on one side where the city is known for entertainment, on the other, the city is also popular as a business district. These are various business centers in Mumbai that today are considered popular amidst the business travelers.
Nariman Point: Nariman Point is situated at the southernmost region of Mumbai. This is most prestigious commercial center of India and is also ranked at 6th position amidst the most expensive world's office real estate locations. Nariman Point is also dubbed as 'Manhattan of India' as there are high-rise office buildings that make an impressive skyline. Headquarter of Air India is also here along with various consulting firms and financial institutions such as Accenture and McKinsey.
Fort Mumbai's CBD: The Central Business District is commonly abbreviated as the CBD. Along with being a commercial point, this is also popular for being the heritage area of Mumbai. This area features Chhatrapati Shivaji Railway Station, which was earlier known as Victoria Terminus. Apart from this, the Bombay Municipal Corporation' Indo-Saracenic headquarters and the grand buildings of Bombay University are also featured here. Here also are popular landmarks such as Bombay Stock Exchange and the Reserve Bank of India (RBI).
Bandra Kurla Complex: The Bandra Kurla Complex (BKC) is the new commercial center of Mumbai. This complex sprawls over an area of 370 acres of marshy land. To the north, this complex is surrounded by Mahim Creek. And to the east is Bandra's cosmopolitan coastal suburb. This complex features both government and private offices. Some of the featured names here are National Stock Exchange, Reliance Industries, the Bharat Diamond Bourse, and the United States Consulate. The complex also features financial institutions namely ICICI, Citibank, and the SBI (State Bank of India).
Conversation Starters
Mumbai, the city of dreams, is full of topics that could be termed as conversation starters amidst the business travelers. Here are the few topics that do not become outdated topics for anyone in Mumbai.
The very rich and the very poor: Antilia is the world's first billion-dollar home. This belongs to Mr. Mukesh Ambani. In the year 2010, he moved with his wife and three children into Antilia. The building is located at a point where the views can see both the beautiful Arabian Sea and the slums of the city. Dharavi is the Asia's largest slum and this slum was made popular in Slumdog Millionaire, the Oscar-winning movie.
The famous and infamous: Mumbai is a home to India's billion-dollar movie industry, Bollywood. The dramatic personal activities of the Bollywood stars are detailed in "Page Three," a must-read section of the 'Times of India' newspaper.
Best Hotels
For business travelers, it is very important to look for accommodation that not only provide comfortable stay but also offer business facilities. Here are few of the Business hotels that are praised for providing excellent accommodation for business travelers.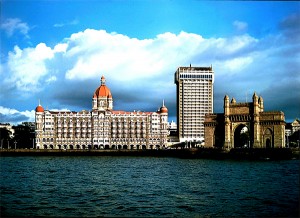 Taj Mahal Palace & Tower: In south Mumbai, located at Apollo Bunder, Colaba, Taj Mahal Palace & Tower is one of the finest business centers. This business hotel was built in 1903, and the guests praise the hotel for its ideal location that provides extensive views of the Arabian Sea and also the country's best swimming pool.
Four Seasons: For the business travelers looking for accommodation in central Mumbai, the Four Seasons, located at 114 Dr. E. Moses Road, Worli, is the best choice. This is one of the luxury hotels in Mumbai, featuring a breathtaking rooftop bar and superb skyline views.
Grand Hyatt: Grand Hyatt, located Off Western Express Highway, Santacruz East, is one of the biggest hotels in Mumbai. The hotel has 547 rooms, equipped with all basic and modern amenities. Apart from this, the hotel also features various recreational and business facilities.
Local Food Culture
Mumbai is dubbed as India's gourmet capital as the visitors could find culinary traditions from the south and North India. Along with this, Mumbai also offers an extensive range of international cuisines. To meet the specific preferences of the guests, there are eateries ranging from street stalls to popular Irani cafés to the glamorous restaurants. As people in Mumbai eat late, say around 10:00pm onwards, guests are recommended to make advance reservations.
Business Breakfast
For breakfast, Mumbai has various local food centers. But, for business travelers, the below mentioned are the perfect option for business breakfast.
Fenix: For fine dining breakfast, Finix at The Oberoi, at Nariman Point is a fine choice. The guests could also take pleasure in a lively champagne brunch. Please note, Fenix is closed on Sundays.
Lotus Café: For a lavish buffet, the business travelers could also visit Lotus Café at JW Marriott, Juhu Tara Road. Along with business breakfast, the guests could enjoy beautiful views across the Juhu Beach.
Business Dinner
As Mumbai is one of the finest business centers, there are various business dinner options available. Some of them are:
Indigo: In South Mumbai, this is located at 4 Mandlik Rd., Colaba. Indigo is a very popular choice amongst business travelers due to fine dining option and excellent cocktails at animated bar. Reservations are important to avoid last minute disheartenment.
Maya: This business dinner is located at The Trident, Bandra Kurla Complex. In Central Mumbai, Maya is a modern-day restaurant celebrating regional Indian food in a dramatic arrangement.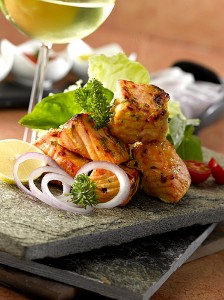 Peshawari and Dum Pukht: Located in North Mumbai at ITC Maratha, Sahar Road, Andheri, Peshawari and Dum Pukht are praised by the business travelers. The Peshawari specializes in serving rugged northwest delicacies in a rustic setting. On the other hand, Dum Pukht is praised for slow-cooked North Indian meals.
Best Leisure Trip
The business travelers in Mumbai could also think of leisure trips. There are various notable destinations, located in close vicinity of Mumbai. Udaipur, the city of the royals and romance, is easily accessible from Mumbai via flights. It takes only an hour via Air India and about 2 hours with Jet Airways Konnect. Udaipur is dotted with various attractions that are praised for their historical significance. Apart from this, the city also has various hotels to meet different budget requirements of the travelers. Thus, the hotels are also praised for their well-appointed rooms, modern facilities and exceptional services that help in assuring a comfortable stay for the guests.
Between Meetings
In your hectic schedule, if you have time between your meetings to enjoy Mumbai, you can enjoy these. These attributes of Mumbai not only make the city unique but also provide a refreshing break to Mumbai business travelers.
Dabbawallahs: During noon, every day at the Churchgate Train Station, in South Mumbai, you can see the Dabbawallahs at work. They deliver around 150,000 lunches to office workers.
Bombay Heritage Walks: Local architects Brinda Gaitonde and Abha Bahl provide a range of walking tours for the guests visiting Mumbai from all round the globe. Amongst various tours, the Fort Walk is very popular and covers attractions such as the Gateway of India, the Yacht Club, the Taj Hotel, the university, Flora Fountain, the High Court, the Asiatic Society and visit to various grand 1930s Art Deco buildings.
Best Shopping
Mumbai is also an ideal destination for shopping for business travelers. These are the three top shopping centers in Mumbai, considered ideal for business travelers visiting Mumbai from every nook of the world.
Bombay Electric: This is Mumbai's and also India's forefront designer fashion & accessories. This is located at 1 Reay House, Best Marg, Colaba, Mumbai (Maharashtra, India).
Good Earth: Located in Raghuvanshi Mansion, Raghuvanshi Mills Senapati Bapat Marg, Lower Parel, Mumbai (Maharashtra, India), Good Earth is a lifestyle destination where, the contemporary Indian design is showcased in a converted cotton mill.
Phillips: This is one of the oldest antique stores, established in 1860 in Mumbai. The store is located opposite Regal Cinema, Museum, Colaba, Mumbai (Maharashtra, India).
Author : Neelam Talreja Neelam Talreja is a Travel Writer with a keen interest in writing about incredible destinations. Her write-ups are detailed and comprising of all relevant details that could accommodate. All write-ups are written after thorough research with a blend of creative writing that will make you travel along.